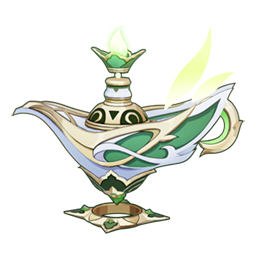 Genshin Impact
Fließende Träume von tausend Nächten
The lamp illuminates the dreams that float up over a thousand nights, and in its emerald-green light flows a song of ancient days.
Attributes
Name

A Thousand Floating Dreams

Source

Event Wish Exclusive

Type

Catalyst

Secondary Attributes

Elemental Mastery

A Thousand Nights' Dawnsong

Party members other than the equipping character will provide the equipping character with buffs based on whether their Elemental Type is the same as the latter of not. If their Elemental Types are the same, increase Elemental Mastery by 32. If not, increase the equipping character's DMG Bonus from their Elemental Type by 10%.
Each of the aforementioned effects can have up to 3 stacks. Additionally, all nearby party members other than the equipping character will have their Elemental Mastery increased by 40. Multiple such effects from multiple such weapons can stack.
Ascend
| | | | | |
| --- | --- | --- | --- | --- |
| | ATK before Ascension | ATK after Ascension | Elemental Mastery | Ascension Materials |
| | | 44 | 58 | |
| | | | | |
| --- | --- | --- | --- | --- |
| | ATK before Ascension | ATK after Ascension | Elemental Mastery | Ascension Materials |
| | 110 | 141 | 102 | |
| | | | | |
| --- | --- | --- | --- | --- |
| | ATK before Ascension | ATK after Ascension | Elemental Mastery | Ascension Materials |
| | 210 | 241 | 148 | |
| | | | | |
| --- | --- | --- | --- | --- |
| | ATK before Ascension | ATK after Ascension | Elemental Mastery | Ascension Materials |
| | 275 | 307 | 172 | |
| | | | | |
| --- | --- | --- | --- | --- |
| | ATK before Ascension | ATK after Ascension | Elemental Mastery | Ascension Materials |
| | 341 | 373 | 195 | |
| | | | | |
| --- | --- | --- | --- | --- |
| | ATK before Ascension | ATK after Ascension | Elemental Mastery | Ascension Materials |
| | 408 | 439 | 218 | |
| | | | | |
| --- | --- | --- | --- | --- |
| | ATK before Ascension | ATK after Ascension | Elemental Mastery | Ascension Materials |
| | 475 | 506 | 241 | |
| | | | | |
| --- | --- | --- | --- | --- |
| | ATK before Ascension | ATK after Ascension | Elemental Mastery | Ascension Materials |
| | 542 | | 265 | |
Recommended Characters
| | |
| --- | --- |
| Character | Reasoning |
| | Nahida's Elemental Skills and talent Awakening Elucidated increase the DMG of Tri-Karma Purification. The talent Compassion Illuminated can also buff the Elemental Mastery of allies on the battlefield, making optimal use of this weapon's sub-stats and buff to Elemental Mastery. This weapon's special effect increases Nahida's Dendro DMG and increases nearby allies' Elemental Mastery. |
| | Yae Miko's talent Enlightened Blessing can utilize this weapon's special effect and sub-stats to increase the DMG of Sesshou Sakura while also increasing the DMG of her Elemental Reactions. This weapon increases Yae Miko's Electro DMG and the Elemental Mastery of her allies. |